Uros floating islands and Taquile island in Titicaca lake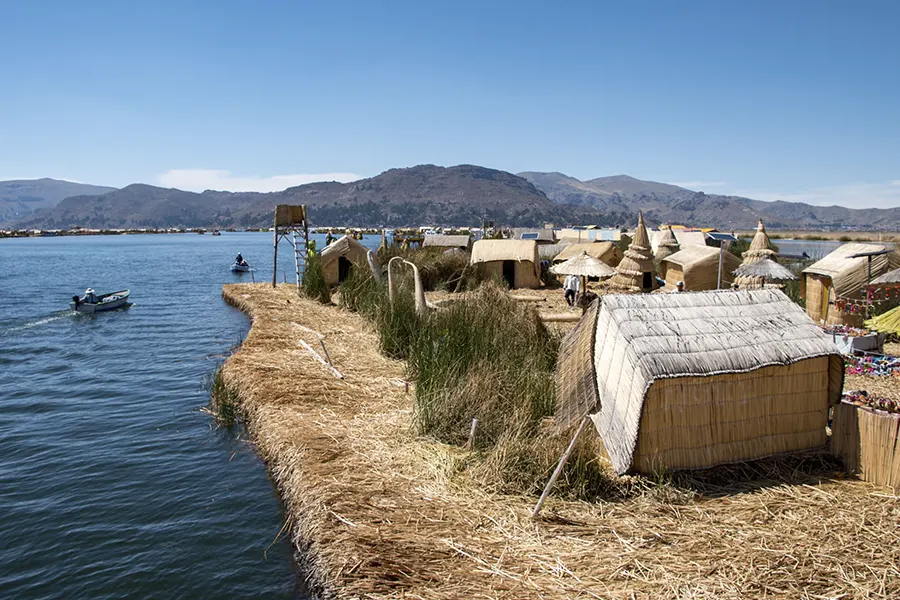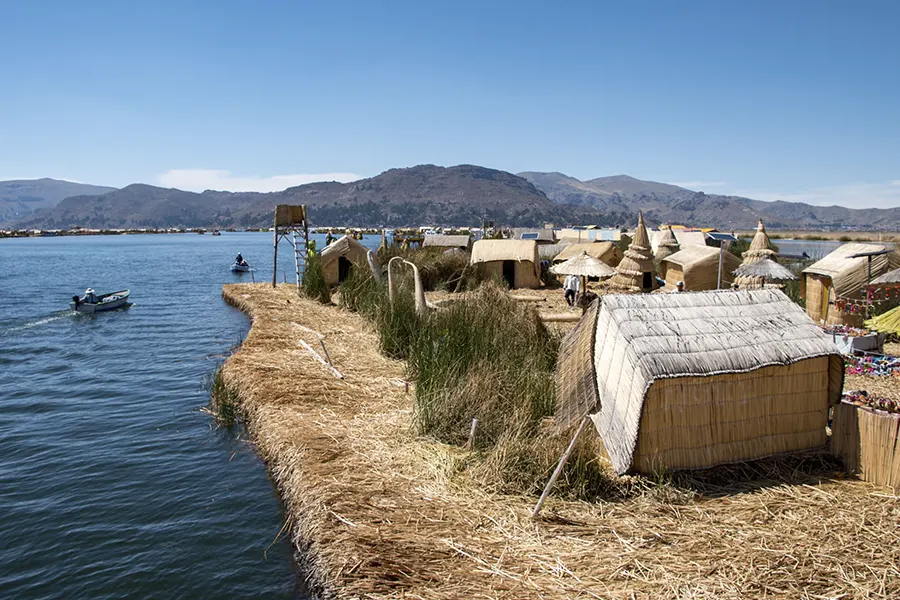 Located at 3800 m of elevation Lake Titicaca is the highest navigable lake
in the world. This tour will allow you to discover the way of life for the islanders of Uros and Taquile, and enjoy the wonder of beautiful landscapes. Learn how Los Uros fabricated their islands using local vegetation. And enjoy of the hospitability of the Taquile people.

Tour starts at 7:00 am. First stop the islands of Los Uros. The boat trip resumes at 9:00 am. It takes approximately 2.5 hours to get to the beautiful island of Taquile. In Taquile a 20 minutes hike will take you from the dock to the main square. Fishing, agriculture, and handicraft constitute the main activities that drive the economy of the islanders. They are famous for their textile art, weaving done by men in which they start from an early age.
You will enjoy a typical lunch served at noon. After lunch you will have 40 minutes of free time to discover the island on your own. You can visit the handicraft center, take pictures or simply enjoy the landscapes. In a clear day, you could to see the island of Amantani, another beautiful island.
Incluye
Pick-up from your hotel in Puno.Transfer to the port of Lake Titicaca and return to hotel.
Transportation to visit islands of Los Uros and Taquile.
Guided tour by a certified bilingual guide (English/Spanish). The boat is not private. More than one tour group per boat.
Entrance tickets to islands of Los Uros and Taquile.
Lunch in Taquile island.

No Incluye
Lodging in Puno.
Transportation from Cusco to Puno.
Nothing not mentioned in the itinerary.

Minimum 2 people to book.
Reservations close at 2:00 pm the day before the tour. Send us your information along the confirmation email until 2:00 pm.
You will get an automated email with your reservation confirmation. Please send us your hotel or pick-up address and meal preferences to the same email address.

If a reservation is canceled 2 days prior to the date of the tour, a 100% of the reservation will be charged as a penalty.
If a reservation is canceled 2-7 days prior to the date of the tour, a 50% penalty is applied.

Private groups get 100% flexibility.
The use of drones is not allowed in group tours for security reasons.
Weather: Cusco weather is unpredictable. Even the highest-rated apps fail to forecast the weather. But do not worry, we will be ready to guide you, just follow our recommendations.

All passengers are required to wear masks and face shields in public areas
and private buses. Guides and drivers are subjected to the same requirements.
Social distancing practices and use of hand sanitizer for all passengers and tour personnel.
Body temperature checks for all passengers and tour personnel.

Select a date
Select a time
Available languages


Total: $0.00
Duration
1 day
Type
Pick-up
Pick up from hotel (only if the hotel is located in the downtown area).
Destinations
Cleanliness and Safety
We follow protocols to protect you against the COVID-19.