Rainbow mountain (Vinicunca) + Valle rojo (red valley) + pick-up at Cusco airport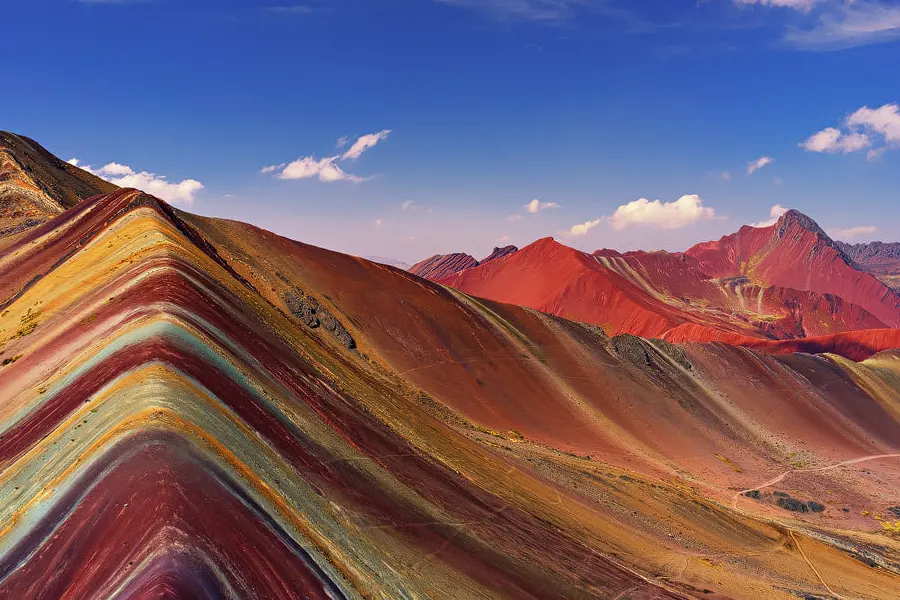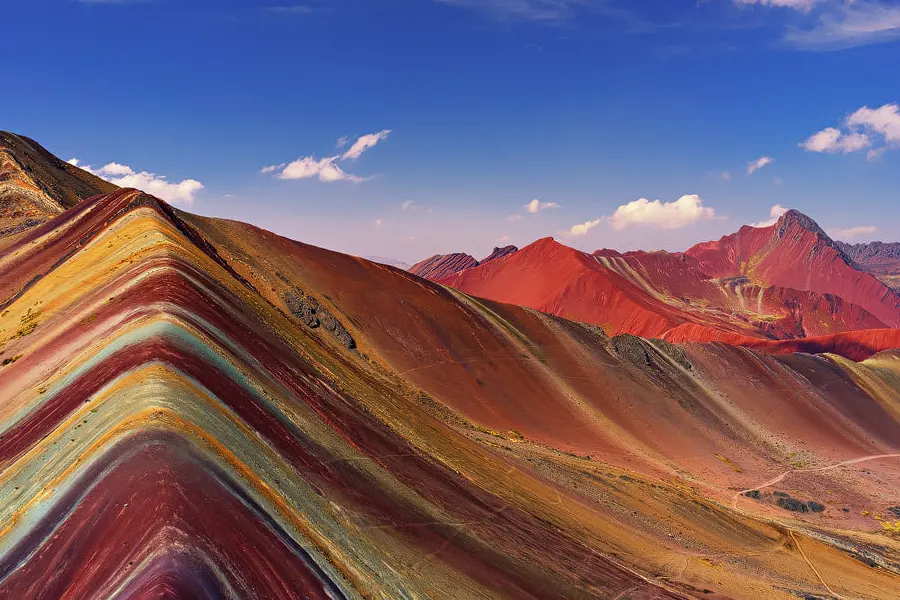 If you like hiking, this is the ideal tour for you. You will enjoy a 2 hours hike around beautiful Andean landscapes. You will sightsee the rainbow mountain at Vinicunca, and the red valley. Plus a sneak peek to El Ausangate, one of the highest mountains near to Cusco.
We are the only agency that will take you through the red valley. The 3 hours hike is physically demanding, so good physical condition and acclimatization to elevation are necessary to avoid high elevation sickness.
If you are looking for a less physically demanding option, we suggest you
check the tour to the rainbow mountain at Palccoyo.

We will begin our adventure picking up our passengers between 04:00 a.m. and 05:00 a.m. in the morning. Then we will travel to the town of Cusipata (3400 mabove the sea level) where we will have breakfast. The trip will continue in our private transportation, through narrow roads, canyons and high plateaus, until we arrive to the town of Chillihuani. From there we will go to Phuluwasipata mountain.
We will hike for 2 hours to the Vinicunca mountain aka rainbow mountain, located at 5000 m of elevation. The amount of minerals that this mountain possesses, give its rainbow-like colored lines that makes it so special.
Then we will continue to the viewpoint of the red valley, a site rarely visited by tourists. It will take us about 3 hours to hike back to Phuluwasipata. On arrival, our bus will take us from Phuluwasipata to Cusipata to have lunch. Afterward, we will return to Cusco city.
Incluye
Pick-up at Cusco airport and transfer to hotel (available only for hotels in the downtown area).
An experienced driver will pick you up from your hotel.
Guided tour by a certified bilingual guide (English/Spanish).
Small groups (2-10 people).
Return through the Valle rojo (red valley).
Meals: breakfast and lunch in a restaurant (vegetarian and vegan options
available).
Security: walking sticks, portable medical oxigen tanks, and first aid kit.

No Incluye
Entrance tickets to: Rainbow mountain Vinicunca : S/15.00. Access to the red valley route: S/15.00. Red valley: S/15.00
Pick-up from hotels outside Cusco downtown.
Tips to guides (suggested tips S/30.00 – S/50.00)

2 people minimum.
You will get an automated email with your reservation confirmation. Please send us your hotel or pick-up address and meal preferences to the same email address.
If a reservation is canceled 2 days prior to the date of the tour, a 100% of the reservation will be charged as a penalty.
If a reservation is canceled 2-7 days prior to the date of the tour, a 50% penalty is applied

Refunds not applicable in case of flight delays, natural disasters, changes in train schedules, bad weather, strikes, illness, pandemics, or erroneous information provided by the passenger the passenger.
Horse rental at site (S/100.00 per person). Horses availability is subjected to demand. We will be happy to help you to rent a horse beforehand. However, keep in mind that for unforeseeable reasons (i.e. ilness) animals might not be available even if the contract is in place. We will notify you of any changes.
The use of drones is not allowed in group tours for security reasons.
Weather: Cusco weather is unpredictable. Even the highest-rated apps fail to forecast the weather. But do not worry, we will be ready to guide you, just follow our recommendations.
All passengers are required to wear masks and face shields in public areas
and private buses. Guides and drivers are subjected to the same requirements.
Social distancing practices and use of hand sanitizer for all passengers and tour personnel.
Body temperature checks for all passengers and tour personnel.

Select a date
Select a time
Available languages


Total: $0.00
Duration
15 hours
Type
Pick-up
Pick-up from hotel (only for hotels located in the downtown area).
Destinations
Cleanliness and Safety
We follow protocols to protect you against the COVID-19.